Binoculars
GECO RANGEFINDER
GECO binoculars offer the perfect entry point into the world of high-end observation optics at unbeatable value for money. The slim and ergonomic design is combined with high-quality materials. The entire housing is made of magnesium. They deliver a large field of view, sharp edge definition, high transmission values and a great short focus thanks to ED glass, multilayer coating and an adjusted optic calculation. These models stand out from their competitors due to their robustness, light weight and optical performance.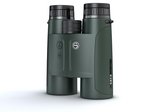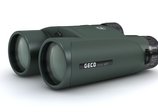 GECO Rangefinder 10x50 Green
The GECO 10x50 RF has a magnesium casing that is combined with robust and shock-resistant rubber reinforcement to ensure optimal protection of the sensitive parts such as the optics, electronics and moveable mechanical systems. Its high-quality HD optics combined with state-of-the-art multicoating enable truly outstanding transmission, field of view, peripheral sharpness and colour rendering. The distance to any targets located within a range of 10 m to 1,600 m can be determined simply and reliably at the press of a button. The GECO RF also offers other measurement options such as the angle of inclination (and corrected distance using an integrated ballistic computer) and temperature.
Item no:

2414261

Lens diameter:

50 mm

Magnification:

10x

Color:

Green

Material:

Magnesium

Rangefinder:

Yes

Auto switch off:

Yes

Power source:

interchangable (CR2)

Field of view:

160 m

Weight:

1000 g

Length:

160 mm

Exit pupil:

5,00 mm

Measuring range:

10-1600 m

Transmission rate:

90
compare article
download datasheet