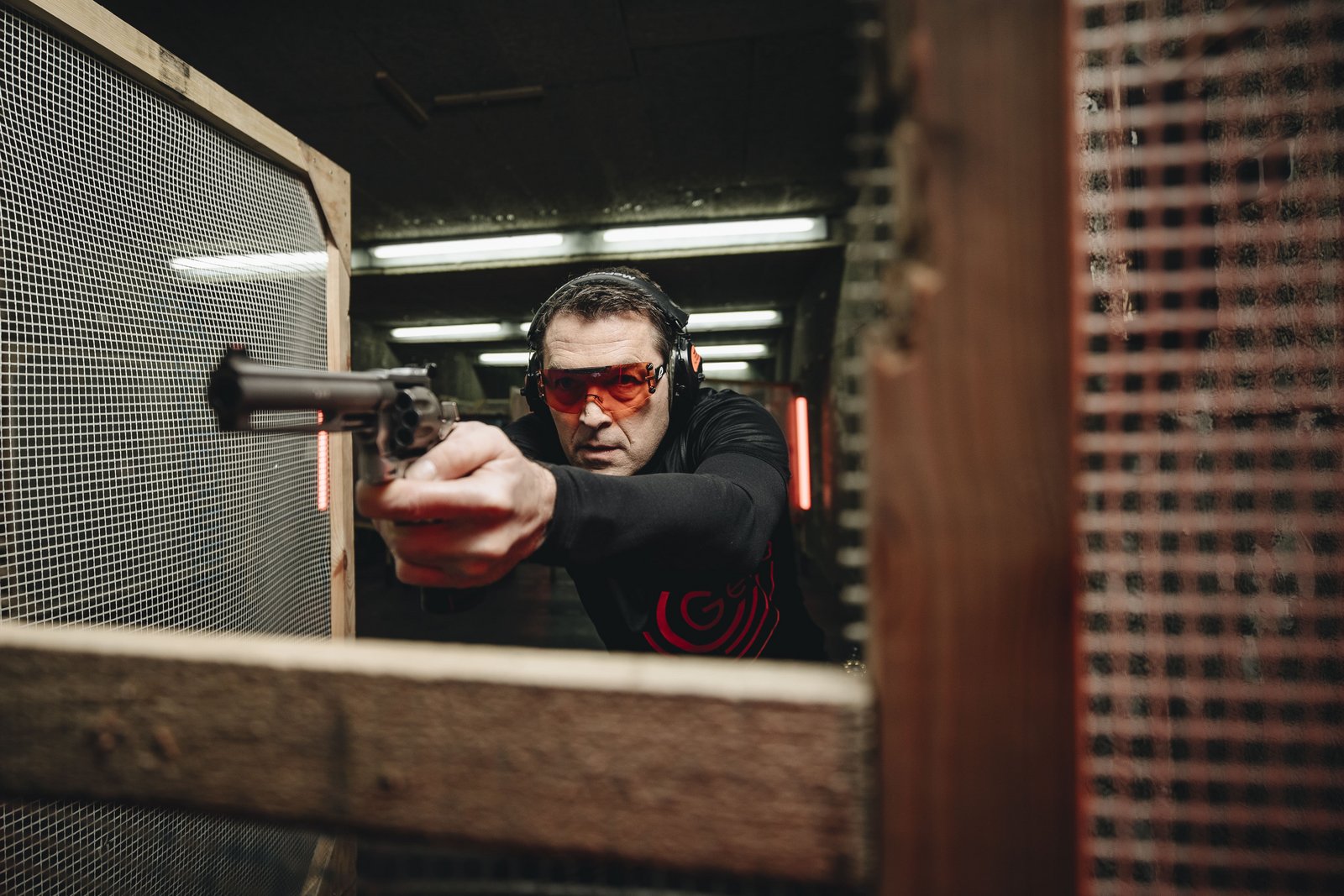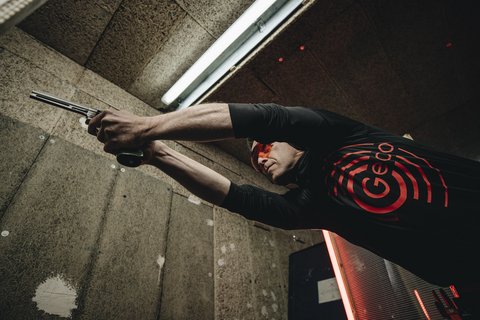 GECO IPSC Team Shooter
Sascha Back, Germany
Born in Eberbach am Neckar in June 1972, the management consultant (married, three children) is known far and wide for his marksmanship with a revolver. After all, the dynamic sharp shooter is now a 14-time German Champion in the IPSC Revolver Division and 2010 European Champion. He also clinched second place in the 2013 and 2016 European Championships. Among the other notches in his belt are fourth places in the World Championships in 2011, 2014 and 2017. He's also among the leading contestants in the Steel Challenge, a quick-off-the-mark competition shooting at steel plates in several standardised exercises, as evidenced by seven European Championship titles in the Revolver Open and Standard Divisions.
Likeable, consistently cheerful and courteous.
The likeable, consistently cheerful and courteous scion of the Baden region is a real jack of all trades in sport shooting, as he is definitely quick and accurate in the handling of long guns as well.
This is demonstrated by four titles of German Champion in the IPSC Rifle 1500J Division, aka PCC (Pistol Caliber Cartridge), he picked up in 2018, 2019, 2020 and 2022. In addition, he won first place in German IPSC Rifle championships 2021 and 2022, and was runner-up in 2018 and 2019. His preferred IPSC competition pistol is a Smith & Wesson revolver model 929 in 9mm Luger with an eight-round cylinder. Besides that, he also uses the S&W 586 and S&W 627 revolvers, which are prepared by the German tuning specialist Karl Hamann from Wolfsburg.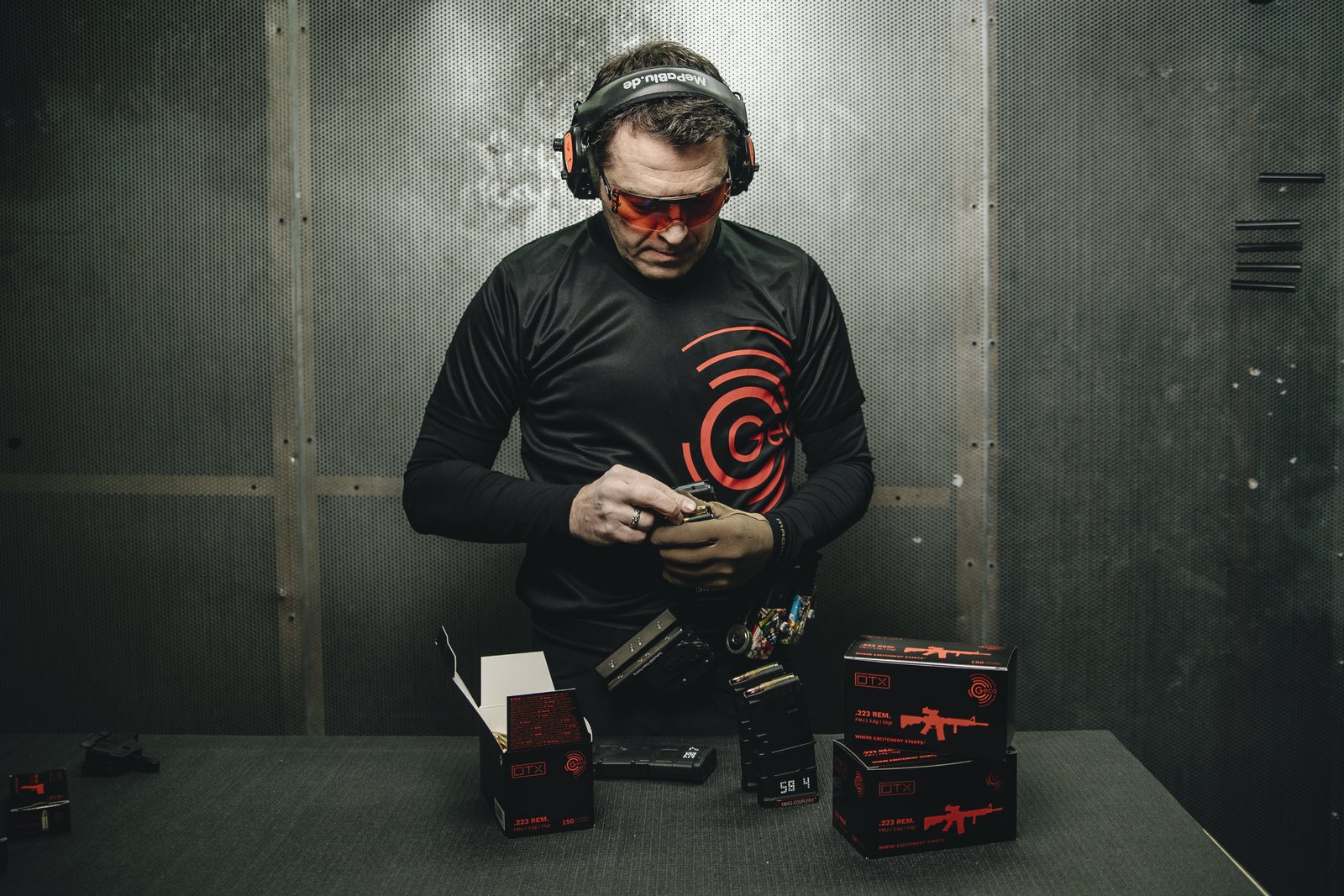 For practice, he shoots the GECO 9mm Luger/124 grains FMJ ammunition from his S&W 929. But in competitions he uses his trusty hand loaded cartridges, consisting of 4.0-grain Reload Swiss RS12 and a 123-grain GECO FMJ bullet. The projectile has unfortunately been discontinued and is no longer on sale, but a new hand load was developed specifically for Sascha. From time to time he also devotes himself to pistol shooting and then trusts in his STI 2011 Edge in .40 S&W, which he feeds with GECO 180-grain factory ammunition in this calibre. In the long gun disciplines, he uses Dynamic Arms Research DAR-15 rifles in .223 Remington (IPSC Rifle) and 3G-Sports 3G-TEC9 aka Quarter Circle 10 carbines in 9mm Luger (IPSC PCC). Sascha mainly loads the GECO .223 Rem. Target FMJ in 55 Grains for the IPSC Rifle disciplines. But he also likes practising with the recent GECO 55-grain DTX ammunition and uses a Nordic Arms AR-15 small calibre conversion kit, which then fires GECO .22 Semi Auto rimfire ammunition. In competitions, however, the top marksman in the .223 Remington centerfire calibre occasionally loads the his magazines with RWS 77-grain Elite Target Plus or hand-loaded cartridges with the 52-grain RWS MJ bullet, Reload Swiss RS40 propellant and GECO Small Rifle primers. Sascha practices for IPSC PCC matches with the GECO 9 mm Luger/124-grain FMJ ammunition and uses a hand load with Reload Swiss RS20 powder and the 124-grain GECO full metal jacket bullet in competitions.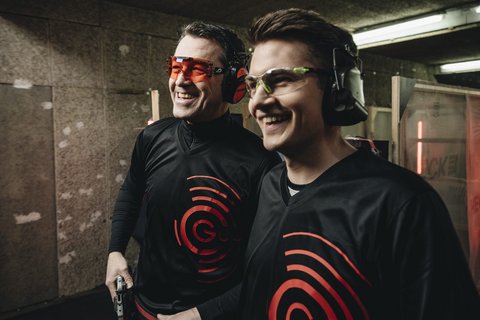 "One of the most memorable sport shooting adventures was at my very first IPSC World Championship in Rhodes, Greece in 2011. I had just recently been crowned European champion and started in a squad with the US pros around Jerry Miculek, the world's best revolver shooter. You could say I was peeing myself! After a tough fight, I was just squeezed into the thankless fourth spot. Suffice to say it was a respectable achievement, but still one that made me want to weep seeing as I'd missed bronze by no more than a whisker. But the man v. man final (shoot-off) among the best competitors made up for the disappointment in the end. I had the distinct honour of competing against 'Mr. Revolver' Jerry Miculek in the final round, although he beat me 3-1. But I have to admit that he might have gifted me and the spectators one victorious run in the shoot-off."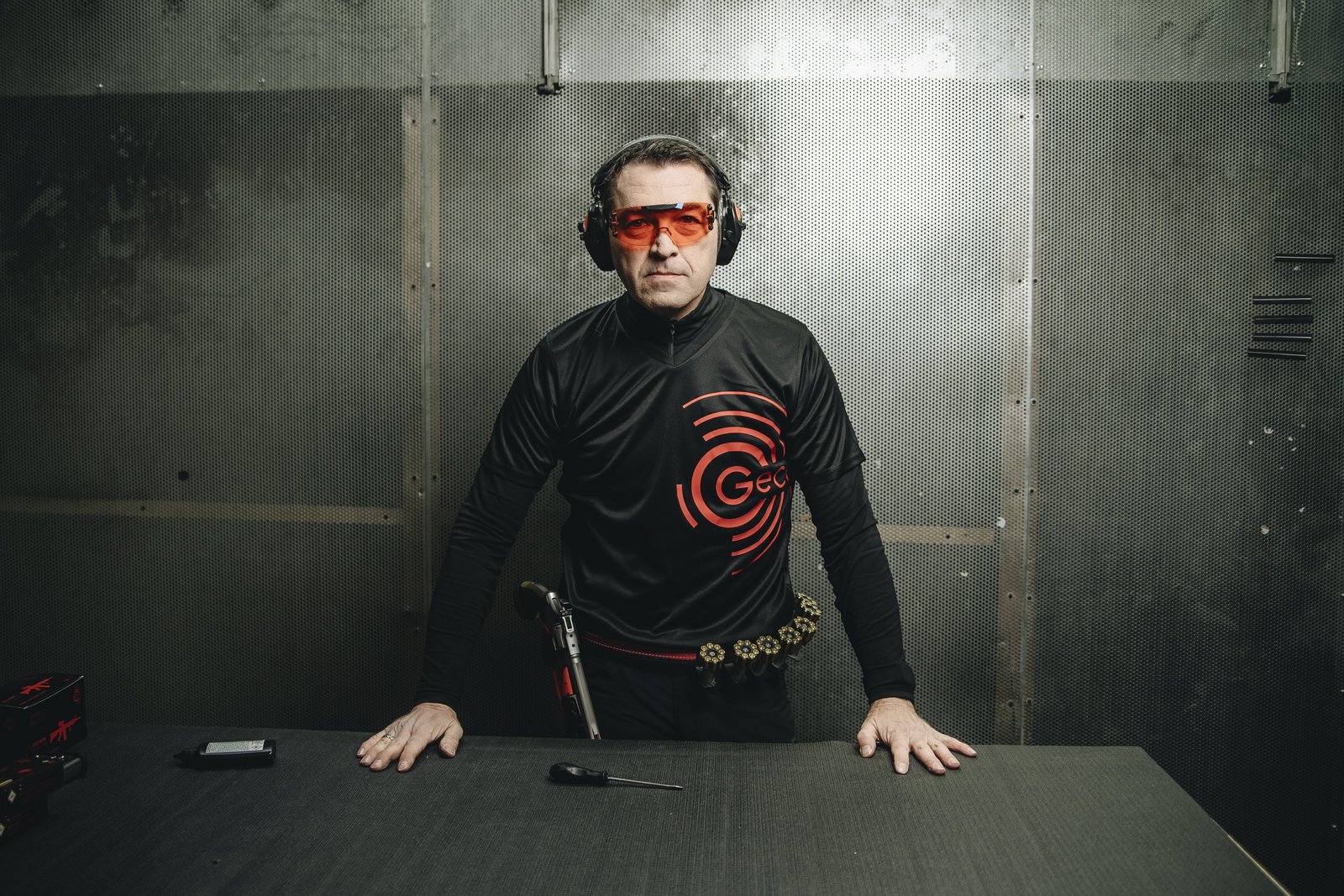 Quick-fire interview with Sascha Back – 10 questions, 10 answers:

1. What introduced you to sport shooting?
Wow, how did I get started? As a boy, I was always fascinated by things that explode and smell of burnt powder!
2. When did you start?
I was shooting one or two air rifles by the age of 11 or 12. But it didn't really get going until I turned 23, when I started shooting the large calibres in 1995.
3. What was the very first gun you owned?
An all-steel CZ75B pistol in 9mm Luger.
4. What have been your biggest successes?
Among them is certainly winning the IPSC European Championship title in 2010. And in 2019, I decided to travel to Sweden for the Rifle World Championship instead of the Handgun European Championship in Serbia. That was an incredible experience as well, and my 25th spot made me the best German competitor.
5. Can you describe a typical day of practice?
I tend to practice in the evening, but free time is scarce, so I usually practice once a week for around two hours and will shoot roughly 300 to 400 rounds. I practice a lot of the basics, so I start with accuracy in long-range shots and then gradually reduce the distance while upping the speed. Then I go back to the beginning again and try to maintain the same speed, even when shooting at more distant targets. Afterwards I practice sequences with a variety of changing shooting positions. I always work with a large number of smaller, concealed discs. The intensity of practice is increased in the run-up to competitions, of course.
6. How much ammunition do you use up each year for practice and competitions?
It will be around 15,000 rounds for all guns and in all calibres.
7. Which firearms are you currently using?
Revolver: S&W 929/S&W 627-8/S&W 586
IPSC Rifle: Dynamic Arms Research DAR-15
IPSC PCC: 3G-Sports 3G-TEC9
IPSC Standard: STI Edge
8. What aspects of the ammunition really matter to you?
It needs to work reliably at all the time, have the lowest possible impulse or must suit my shooting style and the relevant factor. The impulse can be a little livelier sometimes, if it improves the steadiness of the gun when aiming at the target (for instance with a compensator). Reliable operation and good accuracy are basic requirements, of course.
9. Do you wind down with other sports/hobbies aside from sport shooting?
I ride racing bikes and mountain bikes. I competed in downhill races for a few years, before things picked up with shooting. So I tend to enjoy going down the mountain more than I do in the other direction.
10. What advice would you give to a novice shooter?
Look for a practice partner who is either experienced or at least moderately successful. If you can't find one close to you, enter competitions and try to join a group ("squad") with shooters who finish in the top positions. You can pepper them with questions or simply observe how they approach a stage. It's a great way to learn!
Thank you, Sascha!