My most cherished moments are out on the hunt!
Ilona sees hunting as an opportunity to experience the spirit of nature with all her senses and, to top it all, a way to obtain a precious source of nutrition:
"I only take down animals that I can also use. This is how I perceive sustainable use of natural resources, so animals living in the wild. A powerful immediate effect was important to me when choosing the bullet, as it prevents laborious searches, even after good hits."
A native of Upper Franconia, Ilona was introduced to hunting at a tender age. Indeed, it soon became part of her everyday routines thanks to her father's involvement. She has also felt incredibly drawn to the local flora and fauna for as long as she can remember. So it was only the logical consequence of her early childhood impressions and love of nature and game that she completed her hunting license in 2016.
"My intention in sitting the exam was to acquire even more knowledge, to learn how it is used and therefore to become a role model for the rest of society."
GECO ZERO – The clever hunting bullet.
What Ilona means is a respectful approach to handling game – also on social media. Key aspects in this include adherence to the rules of hunting and sustainable use of the game. "I was looking for a suitable, lead-free bullet in the calibre .30-06 Springfield. My own research and discussions with hunting friends drew my attention to the GECO ZERO. Seeing as I am not affiliated with a particular hunting district, it is the right choice for me, as it has the necessary attributes for universal use at any location", says Ilona. Shooting the lead-free part-fragmentation bullet has brought her endless pleasure since then. The highly innovative jacketed bullet has two tin cores. The rear tin core, together with the shell, forms the rest of the bullet's stable body and allows for deep penetration and a secure exit wound.
At present, the 29-year-old mainly hunts deer with her "grandfather-in-law and soon-to-be father-in-law" in a district featuring mixed woodlands and fields. Wild boar and predatory game also inhabit the area. This is yet another reason to pick a bullet with the necessary versatility to hunt small to moderately heavy game. But the enthusiastic hunter feels drawn most of all to the experience of nature itself: "It's always a pleasure for me to spend time up in the blind, just observing our local game."
Unique buck hunting experiences with GECO
One of the most memorable experiences in her hunting career to date was bagging her first roe deer. Originally it was meant to be a buck with just a single antler, but he never put in an appearance. "I felt like I had been sitting outside every evening from the start of the buck hunting season, but experienced something different each day. For example, I still remember the scent of freshly mown meadow grass and the countless goosebump moments out in the field, also the amazing sight of a Royal stag on the fringes of the forest. It was the best buck I have ever seen", gushes the brunette hunter. Eventually she managed to pocket her "unicorn", after endless hours in the blind.
"I was actually just about to call it a day, as twilight was drawing in and it seemed unlikely that an opportunity would arrive. So I was packing up my things when I caught sight of a stealthy movement off to the left in the corner of my eye. And then I saw it – "my" unicorn, just eighty metres away. My heart was pounding in my chest, my throat constricted, but the gathering dusk meant I had to be quick. So I pointed the gun as fast as I could. A perfect shot presented itself when the buck stood sideways, and I took it down with one loud bang. I was particularly delighted to be accompanied by our Small Münsterländer dog, a faithful soul and a real hunting companion. She was already ten at the time, and has since moved on to doggy heaven. I am overjoyed that we were able to share this hunting experience."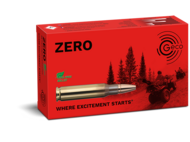 GECO ZERO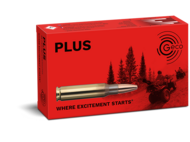 GECO PLUS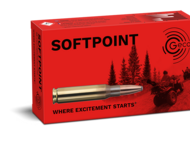 GECO SOFTPOINT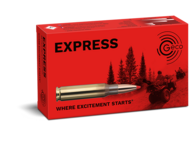 GECO EXPRESS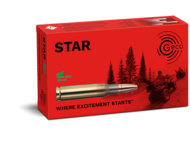 GECO STAR
The perfect GECO binoculars for the field:
The GECO 10x50 RF are remarkable not just because of their outstanding optics, but also because of their reliable and accurate range-finding with rock-solid ballistics. Judging the correct distance is often a tricky endeavour, especially in open fields, difficult terrain or gloomy light. The GECO 10x50 RF is the ideal hunting companion in these situations and adds extra safety to the hunting experience.
back